Cinema 4d tutorial¶
The Conductor submitter for Cinema 4D allows you to ship renders to Conductor from a dialog within Cinema 4D.
This tutorial should get you going quickly. Please check the Cinema 4d reference page for a detailed description.
If you haven't already done so, Download the Companion App.
Open the Companion app on the Plugins page and install the Cinema 4d plugin.
Register the Plugin¶
To register the submitter plugin with Cinema 4d:
Go to Edit->Preferences->Plugins and browse for cioc4d in the installation directory. By default, this will be:
C:\Users\<username>\Conductor\cioc4d


Restart Cinema 4D, you should now see a Conductor menu. If not, submit a ticket to Conductor Support.
Set submission parameters¶
Open a scene to be rendered. We currently support only Redshift and the default renderer.
To open the submitter dialog, Choose Conductor Render from the Conductor menu or the Extensions menu.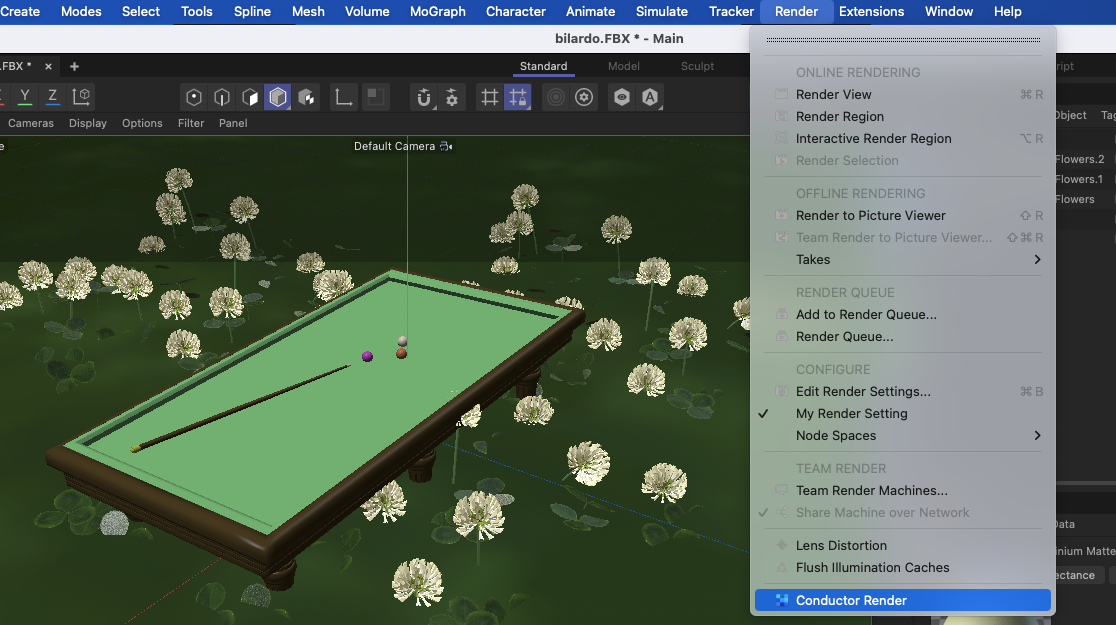 Set a title to show up on the Conductor dashboard when you submit. By default, the title uses tokens: <docnamex> and <takename>. These are replaced with the document name (without extension) and the take name, respectively.
Choose a suitable machine spec from the Instance Type drop-down menu.
Check that a suitable version of Cinema 4D appears in the Cinema 4D Version field, and choose a renderer.
Note
Multi-take jobs are not yet implemented. Submissions are based on the current take. If you wish to submit several takes, you'll need to switch take and press Submit manually.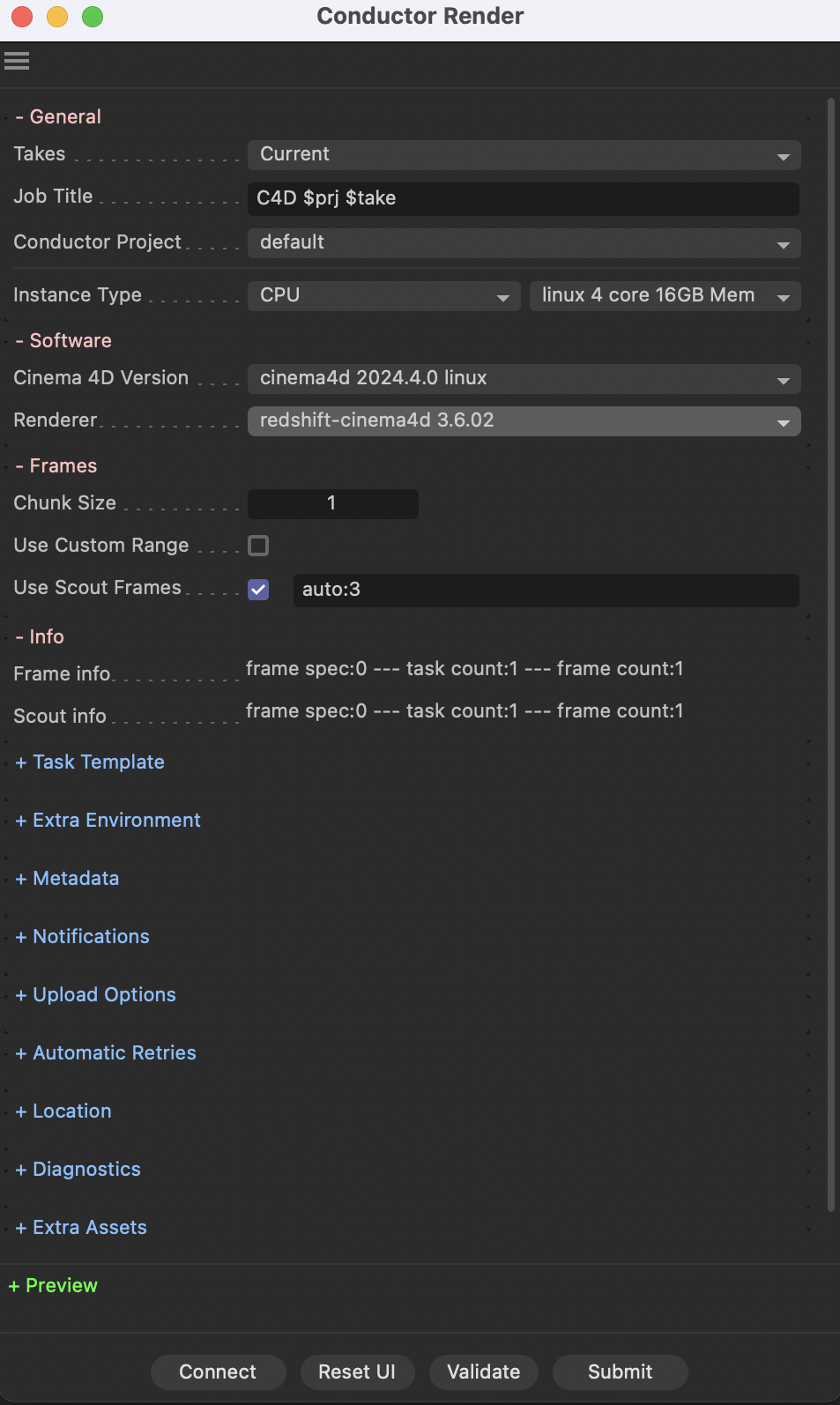 Because the submitter has not yet connected with your account at Conductor, the project is - Not Connected -, and the pulldown menu is empty.
Press the Connect button at the bottom of the dialog and, if prompted, sign in to Conductor.
Choose a project from the Project drop-down menu.
In the Frames section, turn on Use Custom Frames and enter 1-10 in the Custom Frames field.
Set Chunk Size to 1.
Turn on Use Scout Frames and enter auto:3 in the Scout Frames field.
You'll notice the Frame Info section has updated to let you know which frames will be submitted, and how many will be scouted first.

Warning
Important note for Windows users. When your Windows-based project renders on Linux render-nodes, backslashes in paths are not converted by Cinema 4d. For this reason, you should make sure all paths are local. More information on the Cinema 4d reference page.
Submit the job¶
You are now ready to submit your render using the Submit button at the bottom of the dialog. On submission, several validations will run to try to catch any issues that could cause the render to fail. You can also check the Preview section for potential problems in the submission payload.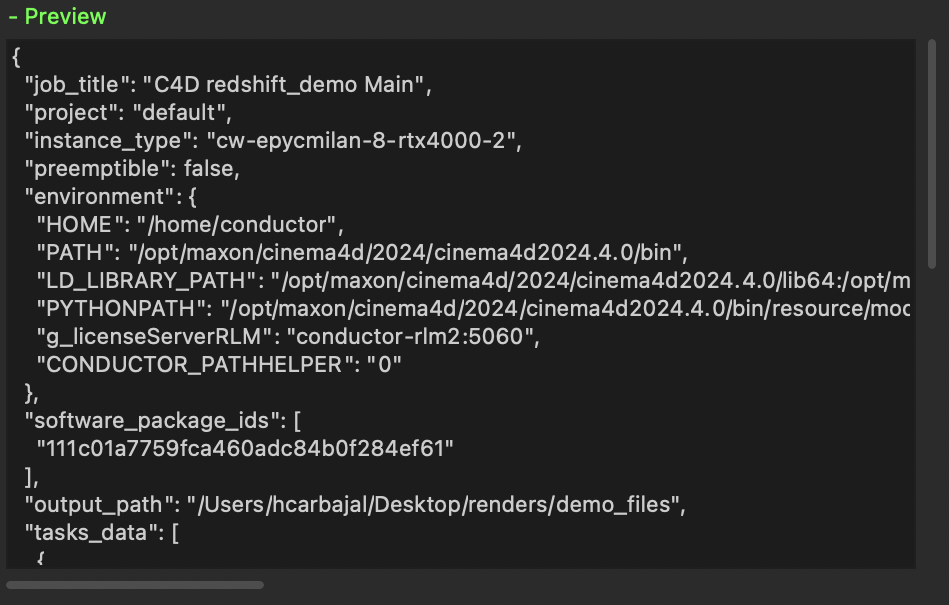 If everything looks good, press the Submit button, and then head over to the Conductor dashboard to monitor your job.
Be sure to visit the Cinema 4d reference page for more info.